M T's quilt &nbsp (Quilt Completed)
Born:
e 11
Illness:
Whole body cerebral palsy and epileptic

Theme: Sea Life

Quilt delivered: 20th Feb 2014
Thank you
We received M's finished quilt today, it's beautiful thank you so much. Can I say a special thank you to all the ladies that worked on it. What amazing people, so talented it's really appreciated.
Finished photos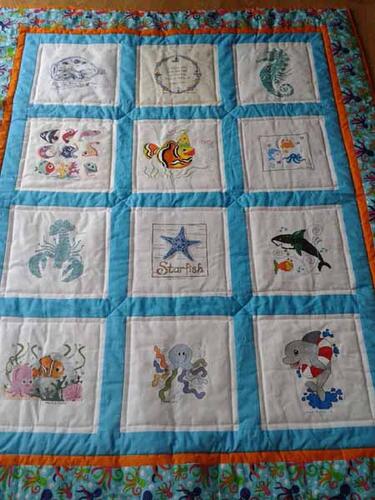 Quilted by:
Vicky
Individual squares
Fabric
Card

Stitched by: Heather
Biography
M is a very happy little boy who has under gone numerous surgeries for dislocated hips, feeding tube, spinal rods. He has frequent stays in hospital due to his intractable epilepsy. He is in a wheelchair and totally dependent on myself for all his needs.

Throughout all he goes through he has the most lovely nature. When he smiles he lights up the room. He is also unable to speak and has now developed sleep apnoea and a strider. We are in the process of being trained to give him oxygen through the night.