Josh T's quilt &nbsp (Quilt Completed)
Born:
November 2005
Illness:
Cerebral palsy

Theme: London

Quilt delivered: 14th Mar 2017
Thank you
Thank you so much for Josh T's quilt he is poorly and been sleeping on and off all day. He's loving his quilt normally kicks everything off him!
Finished photos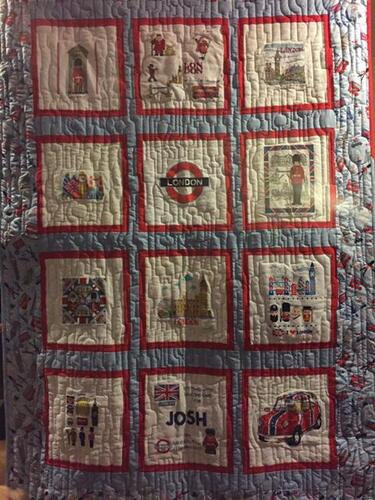 Quilted by:
Alison and Janine
Individual squares
Fabric
Card

Stitched by: Hannah Garner
Biography
Josh is 10 and half years old he's a very happy go lucky little boy even when poorly he has a smile for everyone. He attends school where he is a very popular boy everyone loves to see him and spend time with him. He loves watching the movie Elf. He has a little sister Caitlyn and little brother Jayden.