Chloe W's quilt &nbsp (Quilt currently being assembled)
Born:
December 2010
Illness:
Smith Magenis syndrome

Theme: Disney Princesses and Frozen characters

Quilt currently being assembled
Theme details
Disney Princesses and Frozen characters - General Disney Princesses and also Anna, Elsa, Olaf etc from Frozen (note some Frozen patterns available in Files section of LQUK)
Biography
Chloe was diagnosed at birth via a blood test. She was found to have a deletion of a chromosome and resulted in her being diagnosed with the rare syndrome, Smith-Magenis.

She then had various tests which have resulted in her being diagnosed with further complications such as a duplex kidney, mass in her brain, larygomalacia, pulmonary stenosis and a hole in her heart. Due to a weakened immune system, she is also faced with recurrent ear, chest, urine and skin infections. These coming months are also going to tough for her as she is due to undergo various anaesthetics for surgeries and testing. She is due to have tonsillectomy and adenoidectomy, as well as grommets inserted, a hernia removed, a lump on her lip removed, imaging on her spine to test the degree of her scoliosis and an EEG done as she is displaying seizure activity. Her syndrome also means she has severe sleep disturbances due to an inverted cicadian rhythm, this can have a big impact on her already stressful behaviours. She has regular meltdowns and has displayed extreme self injurious behaviours.

Despite all this she is the most loving, caring, affection and smiley little girl. She has such an endearing personality and is loved by everyone she meets.
Patterns
1.
Olaf from frozen. Disney a punto Croce issue 89 (my own magazine)
Stitcher: Julie, Portgordon, Scotland
Received


2.
Jasmine
Stitcher: Monika, Letchworth GC, UK
Received


3.
LQ files. Beth's design Rapunzel in oval frsme
Stitcher: Jan , Hull, UK
Received


4.
Cinderella from Leisure arts Disney princesses in cross stitch Disney Home Cinderella with a pumpkin
Stitcher: Moira Anne Jeffcoat, Birmingham, England
Received


5.
Anna with 10 snowflajes from files.
Stitcher: Hazel Wotherspoon, Falkirk, Scotland
Received


6.
By Beth Filmer Elsa from Frozen with Snowflakes
Stitcher: EE(Beth)Filmer, Adelaide, Australia
Received


7.
Belle in oval
Stitcher: Bethea Bradley, Bangor, Northern Ireland
Received


8.
LQ file Sept 2015 Harriet Morrison Snow White with border (2)
Stitcher: Jo, Haydock, UK
Received


9.
Arial
Stitcher: Ann Woods, Crimplesham, England
Received


10.
Disney Princesses in cross stitch Sleeping Beauty
Stitcher: Cath, Nottingham, UK
Received


11.
Disney Princesses in Cross Stitch by Leisure Arts Snow White in heart shaped frame
Stitcher: Jeanne, Texas, USA
Received


12.
Label
Stitcher: Jean, Buckinghamshire, England
Received
Squares received
Fabric
Card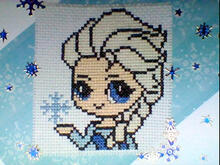 Stitched by: Leanda