Ellie C's quilt &nbsp (Quilt Completed)
Born:
2007
Illness:
Right sided hemipliga ,epilepsy microcaphly

Theme: Hearts

Quilt delivered: 28th Oct 2017
Thank you
Massive thank you to everyone involved making Ellie's quilt it is beautiful she loves it.
Finished photos
Quilted by:
Leanda
Individual squares
Fabric
Card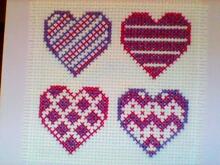 Stitched by: Donna Sharpe
Biography
Ellie was born in February 2007. We left hospital thinking we had a healthy baby until 8 weeks old, when we noticed things was not right.

After a few months of tests Ellie was diagnosed with right sided hemipliga - she does not have the right hand side of her brain. Ellie has had some rough times but puts up a fight and gets there. She has had several ops to help mobility and her biggest challange is being diagnosed with epilepsy 2 years ago.