Thomas S's quilt &nbsp (Quilt currently being assembled)
Born:
October 2015
Illness:
Dystonic cerebral palsy

Theme: Rainbows and stars

Quilt currently being assembled
Biography
Thomas was born at home not breathing. He required immediate resuscitation and was intubated on arrival at hospital. He was then given cooling therapy for 72 hours. He did not take his first unassisted breath until he was 5 days old. We were told within hours that he might not survive but he proved to be a fighter. An early mri showed that he had sustained extensive brain damage and it was clear from early on that he had abnormal movements.

He was born with no suck or swallow so he has been tube fed since birth. He has severe reflux and is failure to thrive with a tiny weight at just over 2 years old. He has had two surgeries, to place a gastrostomy and a failed fundoplication. We expect more surgery this year to resolve an obstructive airway. Thomas is severely delayed physically, unable to roll or sit or use his hands with good effect. He shows signs of being alert and of reasonable understanding.

So far he has been fortunate to have experienced remarkable good health given his condition but he is at high risk of chest infections and sudc. He is generally a happy child who loves observing the world around him.
Patterns
1.
My own design- the saying 'when it rains look for rainbows, when it's dark look for stars' decorated with stars and rainbows.
Stitcher: Rebecca, Kettering, Northants, UK
Received


2.
Cross stitch.com Rainbow star
Stitcher: Becky Keith, Worksop, UK
Received


3.
Climbing Goats Rainbow Maypole
Stitcher: Eileen, Newcastle, UK
Received


4.
New Stitches November 2012 Seven stars in rainbow colours
Stitcher: Sue Torode, Farnborough, UK
Received


5.
LittleHomeMades@Etsy Rainbow with colours running down to form stars.
Stitcher: Lyn , Doncaster, UK
Received


6.
Own design Rainbow heart
Stitcher: Laura, Thetford, UK
Received


7.
3 yellow stars with words...Twinkle Twinkle little star
Stitcher: Leanne Malcolmson, Romsey, UK
Received


8.
Etsy - Climbing Goat Designs Magic Wand with Rainbow Stars
Stitcher: Loraine, Perth W.A, Australia
Received


9.
Moon and Star with rainbow coloured swirl patterns inside.
Stitcher: Nikki Philipps, Chesham, UK
Received


10.
Sand, sea & cross stitch Heart made up of stars in rainbow colours
Stitcher: Merrilie, Corby, UK
Received


11.
Stitcher: Leanne Malcolmson, Romsey, UK
Received


12.
Label
Stitcher: Cath, Nottingham, UK
Received
Squares received
Card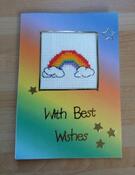 Stitched by: Heather Jepson