Caleb D's quilt &nbsp (Quilt Completed)
Born:
2016
Illness:
Cystic Fibrosis

Theme: Dinosaurs

Quilt delivered: 1st Sep 2019
Thank you
A massive thank you again to all the fabulous stitchers and quilters. My youngest sons quilt arrived yesterday and I picked it up this morning. He was so happy. He thought his brothers was great the other day and couldn't believe that he has one now too. He's now disappeared to his room with it wrapped around him. We are in Glasgow and have been back at school now a few weeks so his anxiety has been high. So this will be a great comfort after school.
Finished photos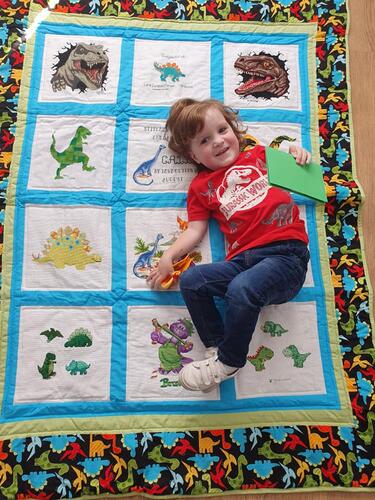 Quilted by:
Sandra (Beds)
Individual squares
Card

Stitched by: Nicola Hargreaves
Biography
Caleb is currently two years old and like his Sister Katie he also suffers from the genetic condition cystic fibrosis.

CF is a disease that causes the body to make thick, sticky mucus that causes problems in two major areas, the lungs and the digestive system.

Healthy lungs produce mucus, which protects the airways and makes it easier to breathe but for a person with CF, the mucus is thick and sticky and can clog up the lungs. This creates a place where bacteria can easily grow and cause infections.

It's not only the airways and lungs that are affected in a person who has cystic fibrosis. Mucus-producing cells line the digestive tract including the stomach, intestines, liver, pancreas and reproductive organs. The pancreas produces enzymes that help digest food and hormones that help absorb sugar. When thick mucus in the pancreas clogs up the narrow passageways it can make it difficult for people to digest food and get all the vitamins and nutrients they need, so to help with his digestion he takes creon capsules.

Caleb normally takes up to 12 of these capsules a day, along with vitamins and an antibiotic 4 times a day to reduce the risk of catching any infections.
He also has physio twice daily and nebulised medication once a day to try and keep him and his lungs as healthy as possible.
If he does get sick, all these treatments increase until he is feeling better.

The problem with cystic fibrosis is that because it's an invisible illnesses people tend to look at Caleb and his sister and think they are ok, but that's because they can't see the damage that it's causing on the inside.

Even with everything he has to deal with he is still such a loving happy go lucky boy.