Sienna O's quilt &nbsp (Quilt Completed)
Born:
2013
Illness:
Cystic fibrosis

Theme: Dance

Quilt delivered: 24th Nov 2019
Thank you
The quilt is amazing. She is in love with it. As a family we cannot thank you all enough for the hard work and dedication gone to making her quilt that she can take in with her to hospital which will make her day a bit brighter xx
Finished photos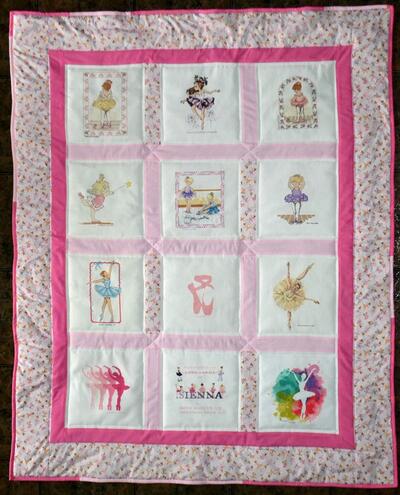 Quilted by:
Leanda
Individual squares
Card

Stitched by: Leanda Vickers
Biography
Sienna was born with cystic fibrosis. At 6 months she grew pseudo and at 1 Sienna grew aspergillus, another nasty bug which attacks the lungs. Sienna has been in hospital every 3 months for iv antibiotics.
Sienna also had a port fitted at age 3 for easy access for iv treatment. This February Sienna had another surgery for a feeding tube as she struggles to gain weight as she is also pancreas insufficient. Through all this Sienna manages to smile and enjoy life, she is our hero in every way.