Charlie G's quilt &nbsp (Quilt Completed)
Born:
2015
Illness:
Ketotic Hypoglycaemia

Theme: Vehicles

Quilt delivered: 8th Feb 2020
Thank you
Many thanks to everyone for their hard work in making this amazing quilt for Charlie. It's arrived today and it's safe to say he loves it!

Such a lucky boy- we will cherish this forever!
Finished photos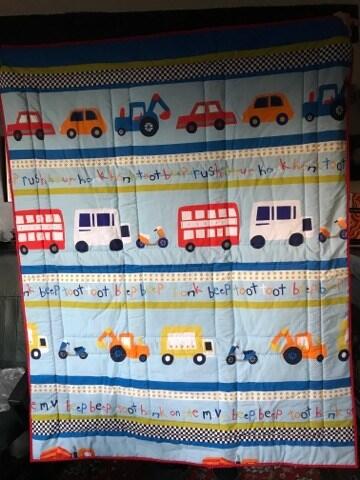 Quilted by:
Pat
Individual squares
Card

Stitched by: Debbie Elkington
Biography
Charlie was born by emergency c-section following a normal pregnancy. When he was born his blood sugars were very low and he was jittering. He was on SCBU for a week being tube fed to sustain his blood sugars. We were allowed home and within 24 hours contacted to return as some blood tests had come back from Manchester showing he had a condition called hyperinsulinism. This was proven to be transient and the hope was it wouldn't affect him any longer. He was monitored again over night and appeared relatively well for the next couple of months.
At 4 months old he started with uncontrollable eye movements (nystagmus) and was observed again in hospital. This progressed over the next year to extreme vomiting and on a few occasions I got him out of bed limp and floppy like a new born and we took him to hospital by ambulance. During this time, and up until April 2018, we were back and forwards to a few consultants and he had countless tests including an MRI scan, muscle testing, ECG, EEG, echo but we still did not know what was the problem with Charlie. After a fasting stay at the hospital he was diagnosed with ketotic hypoglycaemia.
Developmentally Charlie has come a long way. He was behind for the first 2 years of his life but, since managing his medical needs more effectively, he has made amazing progress to become the special, beautiful boy he is today. He still has his struggles physically. He can walk but not long distances and struggles with climbing etc. which can be frustrating for him.
In terms of where we are now, we are still awaiting test results as it is believed that not all of his symptoms are due to his ketotic hypoglycaemia. We hope that we will have all the answers soon so we can fully support Charlie to be as healthy, happy and cheeky as possible.