Cameron's quilt (Quilt Closed)
Born:
2003
Illness:
Epilepsy

Theme: Space and Star Wars

Date opened: 19th Feb 2020
Date closed: 23rd Feb 2020
Deadline: 26th Jun 2020


Theme details
Space and Star Wars - All things space
Child Interests
Cameron likes music.
He likes spending time with his dad on the x box.
He likes Star Wars. He wears clothes which have Star Wars on.
He has a space themed bedroom.

Biography
Cameron was born at 38 weeks. He would sleep a lot or if he wasn't sleeping he was crying an ear piercing cry. Just before he was 8 weeks he had a strange movement when he was sleeping which was like a jerk in your sleep.
The following days this happened more and more. He went to hospital and had a lumbar puncture and ECG. We were told a few days later he had epilepsy.

He was diagnosed with a kidney disease a couple of weeks later. He has global developmental delay.
Patterns
1.
LQ files by Merete Langseth Jedi master yoda
Stitcher: Angie, Belper, UK
In Progress


2.
Star Wars Logo LG files by Bekki Houghton
Stitcher: Julie, Anglesey, Wales
In Progress


3.
Spaceship from my files
Stitcher: Sylvia, Clacton, England
Received


4.
DMC design Star chaser
Stitcher: Eileen, Newcastle, UK
Received


5.
LQ files Bb8 by Deborah
Stitcher: Val Gilbert, Coningsby , UK
Received


6.
LQ Files C3PO whole stitches
Stitcher: Nicola, St Albans, UK
Received


7.
Nasa logo from files designed by Clare Bray
Stitcher: Nicola Dove, Barnsley, UK
In Progress


8.
Darth Vader final from LQ files Darth Vader
Stitcher: Jackie Billington, Birmingham , UK
In Progress


9.
Rocket ship blasting off into space (space shuttle) from LQ files
Stitcher: Marilyn Foyle, Biggleswade, UK
Received


10.
Bear astronaut floating above the moon.
Stitcher: Emma, Stevenage, UK
In Progress
https://dailycrossstitch.com/product/free-space-be...


11.
LQ Charts R2D2
Stitcher: Sarah, Sale, UK
In Progress


12.
Label
Stitcher: Jeanne, Texas, USA
Received
Squares received

Stitched by: Jeanne
Submitted: Mar 2020


Stitched by: Sylvia
Submitted: Mar 2020


Stitched by: Eileen
Submitted: Mar 2020


Stitched by: Val Gilbert
Submitted: Mar 2020


Stitched by: Nicola
Submitted: Mar 2020


Stitched by: Marilyn Foyle
Submitted: Mar 2020
Card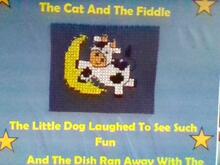 Stitched by: Gemma McKnight