Kai John W's quilt (Quilt Closed)
Born:
2018
Illness:
Pierre Robin Sequence - tracheostomy

Theme: Male Disney Characters and Paw Patrol

Date opened: 22nd Feb 2020
Date closed: 23rd Feb 2020
Deadline: 26th Jun 2020


Child Interests
Kai John is such a happy little person, everyone that meets him never forgets his little smile. His favourite colour is light blue (due to his favourite show character Iggle Piggle from In the Night Garden). Kai John has a little dog at home - a West Highland terrier called Poppy. Due to this he loves all things dog including Paw Patrol and all the puppies on it. He cuddles all his Paw Patrol teddies before bed and I know he would love a wee blanket for all his hospital stays with them on it. He isn't able to make many noises but has mastered Poppy`s bark and does it when ever he sees a puppy. He loves all things Cbeebies, his number one show is In the Night Garden but he also loves Waffle the Wonder dog which is about a goldendoodle, Bing is also one of his favourite shows and he loves Scooby Doo! Kai John has been to see Disney on Ice twice now and LOVES it, his favourite Disney characters are Aladdin, Mickey and friends (Mickey and Pluto being his favourite), Monsters Inc and Zootopia. He has a little love for giraffes and horses too! He spots them everywhere he goes and his favourite toys are his giraffe and horses. He is a cheery little boy who is always smiling.
Biography
When our little Kai John was born, he instantly stopped breathing and turned blue. After 14 attempts of resuscitation, the amazing nurses were able to bring Kai round. In the first hour of his life, Kai went to the children's hospital in Glasgow - a couple of hours away from us and at four hours old he was given a tracheostomy as his last hope. We were later told about Kai's rare condition Pierre Robin which meant he was born without a chin and a cleft palate.

Kai had to undergo two major surgeries at 3 months old and 7 months old to give his chin the opportunity to grow - jaw distraction. He had pins (distractors) inserted into his jaw that myself and his dad had to turn twenty times a day with a device that almost looks like a screwdriver for his chin to grow. He also went into hospital for his cleft palate repair at 10 months old. Kai has had a really rough start in life spending his first 3 and a half months in intensive care and then being in and out for 5 surgeries since then. As his parents we are so proud of him and how he doesn't ever stop trying to do things we were told he would never do - such as drinking from a bottle and not a tube, making noises even though he has a trachy. He is a truly wonderful little man with a big smile!
Patterns
1.
Love quilt UK file Toy story - woody and buzz
Stitcher: Kitty Osborne, Stirling , Scotland
In Progress


2.
Love quilts uk files Disney Emojis - Aladdin
Stitcher: Toni Tollan, Stirling, Scotland
In Progress


3.
Lq files Mickey and frog
Stitcher: May McGregor, Alloa, Scotland
In Progress


4.
Mickey and Pluto from lquk files
Stitcher: Sylvia, Clacton, England
Received


5.
Pluto from LQ Files
Stitcher: Barbara, Midhurst , UK
In Progress


6.
Love quilt files Dash from incredibles running
Stitcher: Sue P, Birmingham, England
In Progress


7.
Winnie the Pooh Words of Wisdom in cross stitch, by Debbie Minton Tigger jumping on grass (missing out the words which are on the design in the book)
Stitcher: Emma Edwards, Hawkesbury Upton, UK
Received


8.
Chase, Marshall, Rubble and Skye Paw Patrol
Stitcher: Ellie, London, UK
In Progress


9.
Monsters Inc Emojis from LQUK Files
Stitcher: Pippa, Surrey, UK
In Progress


10.
LQ Files Mickey - bed
Stitcher: Sarah, Sale, UK
In Progress


11.
LQ files Baymax
Stitcher: Alysa, Warwick, UK
In Progress


12.
Label
Stitcher: Moira Anne Jeffcoat, Birmingham, England
In Progress
Squares received
Card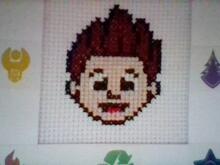 Stitched by: Jodie Balaam