Emily M 's quilt &nbsp (Quilt currently being assembled)
Born:
2017
Illness:
Severe inoperable aortic valve stenosis

Theme: Nursery Rhymes/Emergency Vehicles/Animals

Quilt currently being assembled
Theme details
Nursery Rhymes/Emergency Vehicles/Animals - Some nursery rhymes, Some animals (lorikeets and lions and monkeys) and some emergency vehicles
Biography
Emily was diagnosed pre-birth with severe heart problems and her birth mum was informed Emily would not live for long. She was rushed to GOSH for major heart surgery the day after birth. While at GOSH she had further surgery to try to repair the damage to her heart but also suffered setbacks due to infections. At GOSH Emily's other problems were discovered including her blindness. These are all signs of a possible genetic disorder called Fraser syndrome but her birth mum does not wish to find out.

When Emily was 3 months she became very poorly and it was clear nothing more could be done for her and to transfer her back to our local hospital for respite care. Emily was given a few days left.

This is where I come in to her story. Emily is not my bio child she is my cousins daughter. I began to visit Emily in the hospital so that she wouldn't be alone. Her birth mum was finding it difficult to be with Emily and could not stay with her. Emily grew stronger and as the hospital were not actively treating her agreed that Emily needed to go home to live her remaining days with family. Unfortunately my cousin could not face taking Emily home and so social services were involved to place Emily into care. I had grown to love this little fragile girl who just needed love. I was in a position to offer Emily a home for however long she had. I was trained up in her care and given the support needed to bring Emily home with me. In August 2017 Emily left the hospital with me and somehow has miraculously made it to this time.

I am under no illusions that her life will be short and I live day to day knowing it could be her last but Emily has changed my life forever and for the better. She has made my dark days light and fills me with such joy and love. I am her forever mamma and she is my amazing little tubie warrior. I gained legal guardianship of Emily in 2018. My children love her as their little sister.

Since being with me Emily has had further operations which did not work as well and therefore GOSH have said her heart is too unstable to withstand any more. She has suffered many many infections that have resulted in hospital admissions with several " is this it" moments, but each and every time she fights back. Emily has her own agenda, she wants to explore the world and leave her mark. Emily is loved by so many people and has brought our family together.

I wish you could all meet her. Emily is a beautiful little girl who has so much to give.
Patterns
1.
Elephant in a bubble bath
Stitcher: Carol West , Thetford, Norfolk, UK
Received


2.
Cross stitch A beautiful gift book By Sharon Perna I love little Kitty
Stitcher: Elaine Dixon, Athens, Greece
Received


3.
RockingHorseCS Etsy Colourful mandala monkey
Stitcher: Nancy Lowe, Tamworth, UK
Received


4.
Nursery motifs from world of cross stitching issue 278 Four small motifs of nursery rhymes: twinkle twinkle little star, row row row your boat, incy wincy spider and 12345 once I caught a fish alive
Stitcher: Sarah, St. Albans, UK
Received


5.
Designed by Marcia Manning. Cross Stitch Wonders Licensed artwork Sanqunetti design Humpty Dumpty had a great fall
Stitcher: Marilyn Foyle, Biggleswade, UK
Received


6.
Cross Stitch crazy, issue 33, free chart Realistic kitten with poppies
Stitcher: Helen, Swindon, UK
Received


7.
UK Fire Engine by Beyh Filmer from LQ Files
Stitcher: Pippa, Surrey, UK
Received


8.
From World of Cross Stitching magazine (adapted slightly to make it bigger) Emergency vehicles - ambulance, police car and fire engine
Stitcher: Deborah, Leeds, UK
Received


9.
Etsy Geometric elephant
Stitcher: Ali, Newcastle upon Tyne, UK
Received
climbing goat designs


10.
Own design. 5 little monkeys jumping on a bed
Stitcher: Pat Brown, Warminster, England
Received


11.
Designed by Beth Filmer LQUK Files Police Motorcycle
Stitcher: Sharon, Kenilworth, UK
Received


12.
Label
Stitcher: Nicola Hargreaves, Barnsley , UK
Received
Squares received
Card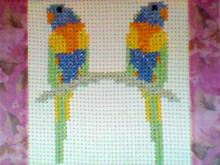 Stitched by: Sandra