LoveQuilts UK News
News 21 Jul 2012 - 17 Aug 2012


Quilt News
Gaynor has returned from volunteering at the Olympic Games, and here is the LQ News :)

Six quilts have been delivered over the last month:

Sarah B's quilt (Fairies and Princesses) - quilted by Mary:




Jack B's quilt (Male Disney characters and Minnie Mouse) - quilted by Evelyn (No photos received)

Jake C's quilt (Cartoon/Disney Characters) - quilted by Cathy:




Harry X's quilt (Space (predominantly blue
for sensory reasons)) - quilted by Helle:




Poppy J's quilt (Disney characters - all) - quilted by Rebecca:




Charlie H's quilt (Animals) - quilted by Katherine (Emergency Quilt):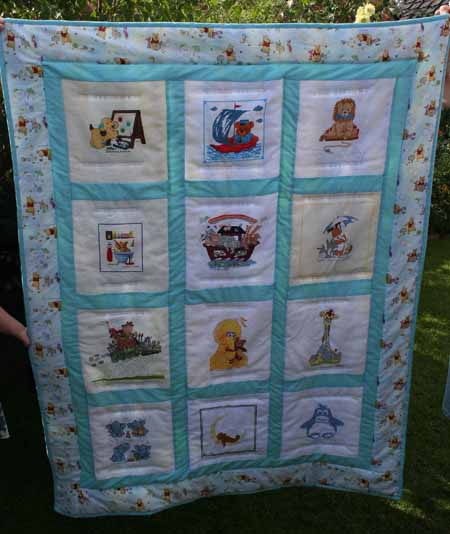 Additionally, two emergency quilts have been completed by Kita (Winnie-the-Pooh and Mr Men):




We thank all the fabulous stitchers and quilters who have made these quilts happen :)


Quilts opened/closed
We have decided to put together two further hospice quilts, one for the Keech Hospice (Meadow Quilt) and one for Bluebell Wood's second suite (Primrose Quilt). These quilts are now in progress.

Square News
We have received 40 squares! Many thanks to all those who stitched them!



<<Newer 1 2 3 4 5 6 7 8 9 10 11 12 13 14 15 16 17 18 19 20 21 22 23 24 25 26 27 28 29 30 31 32 33 34 35 36 37 38 39 40 41 42 43 44 45 46 47 48 49 50 51 52 53 54 55 56 57 58 59 60 61 62 63 64 65 66 67 68 69 70 71 72 73 74 75 76 77 78 Older>>

Showing results 160 to 162 of 233