LoveQuilts UK News
News 25 Jun 2011 - 07 Jul 2011


Quilt News
Since our last update, three quilts have been delivered:

Jack's quilt:




Max's quilt: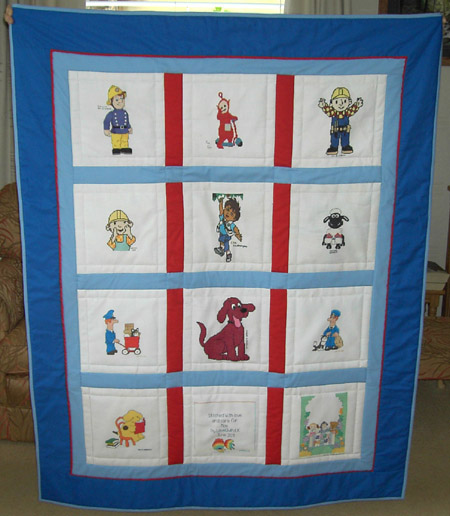 Matty's quilt:




Big thanks to Joy, Joyce and Melanie respectively for quilting these lovely quilts and to all the wonderful stitchers who have contributed!

Matty's mum has sent the following message: "I was wondering if the ladies who made Matty's very special quilt could leave a little massage about them selves on Matty's website. His site gets made into a book for him to read and it would be wonderful to have a little knowledge of the ladies who took the time to do something so special for him."

Matty's website is here: http://www.caringbridge.org/visit/matthewhooper


Quilts opened/closed
Hannah P's quilt was opened and closed (Princesses)
Leroy G's quilt was opened and closed within 10 hours overnight! (Seaside theme)
Brandon's quilt was opened (Vehicles)
Jennifer M's quilt (Female Disney Characters) was opened



Square News
We have received 31 squares since our last update! Many thanks to all those who stitched them!



<<Newer 1 2 3 4 5 6 7 8 9 10 11 12 13 14 15 16 17 18 19 20 21 22 23 24 25 26 27 28 29 30 31 32 33 34 35 36 37 38 39 40 41 42 43 44 45 46 47 48 49 50 51 52 53 54 55 56 57 58 59 60 61 62 63 64 65 66 67 68 69 70 71 72 73 74 75 76 Older>>

Showing results 193 to 195 of 226