LoveQuilts UK News
News 17 Jul 2011 - 20 Aug 2011


Well, we have been a little while without a news update as Gaynor as been away holidaying in the USA. However, there has been a lot going on at LQUK.

Quilt News
Four quilts have been delivered:

Patrick's frog quilt:


Brooke H's quilt: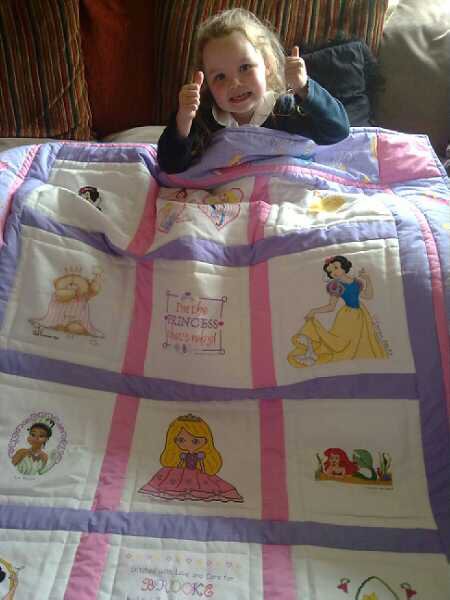 Poppy's quilt:
Rhea's quilt:

Thank you so much to quilters Katherine, Alison and Janine, Sandra and Pauline for their wonderful work on these quilts.

We have now reached 27 quilts completed this year, which is the same number as in the whole of 2010, and we still have 4 months to go.


Fabric
We had completely run out of fabric, but Gaynor managed to bring back a grand total of 225 yards of fabric from the USA which will hopefully keep us going for a while (we use about 3-4 yards per quilt, not including the backing) LQUK is able to purchase about half of this out of current funds, and Gaynor is happy to be reimbursed for the rest over the next few months or so as funds come in.

A big thank you to Gaynor's friend Janette in Oregon who allowed Gaynor to have a load of fabric shipped to her house ready for her to pick up. Mr Fedex definitely knows the way to Janette's house!


Quilts opened/closed
Gaynor will shortly be opening our first 2012 quilts.


Square News
We have received an amazing 97 squares since our last update! Many thanks to all of you who continue to offer your fantastic support to LQUK.



<<Newer 1 2 3 4 5 6 7 8 9 10 11 12 13 14 15 16 17 18 19 20 21 22 23 24 25 26 27 28 29 30 31 32 33 34 35 36 37 38 39 40 41 42 43 44 45 46 47 48 49 50 51 52 53 54 55 56 57 58 59 60 61 62 63 64 65 66 67 68 69 70 71 72 73 74 75 76 77 78 79 Older>>

Showing results 202 to 204 of 237