LoveQuilts UK News
News 21 May 2011 - 28 May 2011


Quilt News
This week, three quilts have been delivered!

Brooke N: (Quilted by Mary)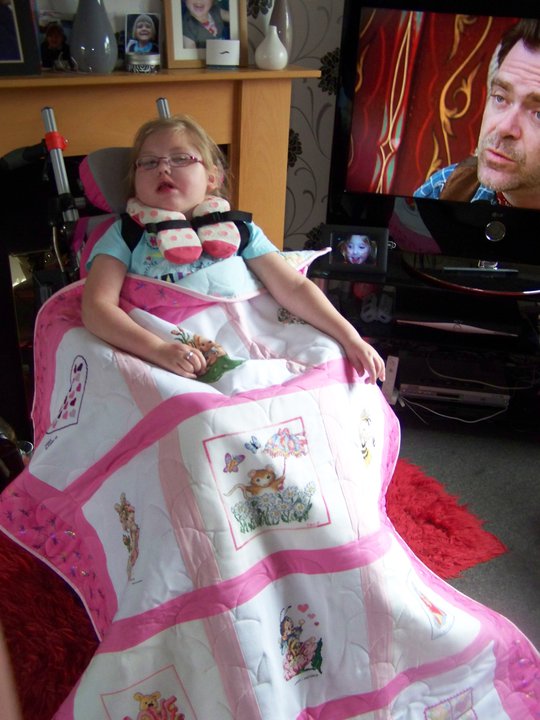 Seraphina: (Quilted by Anna)




Lotty: (Quilted by Katherine)




Our quilts are flying out now, thank you so much to our new quilters who are doing a wonderful job :)

Quilt materials have gone out this week to Joy and Joyce who will be working on Max P's and Jack B's quilts and also to Liz who will be working on Faith M's quilt. Joan's work with Callum's quilt is very advanced and she hopes to post it out to him this coming week.


Quilts opened/closed
McKenzie M's quilt was closed
Stitch-a-long: Hello Kitty's quilt was closed
Stitch-a-long: Disney Pixar Cars's quilt was closed

Note: The Hello Kitty and Disney Pixar Cars have been closed to make way for some fresh Stitch-a-longs we intend to open this coming week, but if anyone is particularly interested in stitching for these themes, feel free! Just drop us an email and we'll put you on the list.

Alice B's quilt was opened and closed.
Bradley's quilt was opened and closed.
Blisse's quilt was opened and closed.
Alfred O's quilt was opened
Stitch-a-long: Lickle Ted's quilt was opened



Past quilts
We have received some news of past quilts this week - it is wonderful to know that kids get ongoing comfort and pleasure from their quilts.

We received this photo of Abigail who currently has her quilt with her in Bristol Children's Hospital - get well soon, Abbie!




We received this news about Scott:

"Scott is back in hospital and many people have commented on how beautiful his quilt is and how talented you all are. When people look at it he signs thank you! He likes to sign 'car' and points at the ambulance on the material (he's been in one too many times). Scott has very little energy, so often likes anything that he can look at,and his quilt is so bright and fun. He has settled tonight stroking the square with mater on. It is nice to know there are lovely people out there who care about our special kids. xxx"

And Corey-Jack:

"Lil Corey-jack has been very poorly again and guess what was the only thing he wanted! Yep you got it his Love Quilt! xxx"


Square News
We have received another large square haul this week - 34 squares! Many thanks to all those who stitched them and also to Katherine who painstakingly uploaded pictures of them all!



<<Newer 1 2 3 4 5 6 7 8 9 10 11 12 13 14 15 16 17 18 19 20 21 22 23 24 25 26 27 28 29 30 31 32 33 34 35 36 37 38 39 40 41 42 43 44 45 46 47 48 49 50 51 52 53 54 55 56 57 58 59 60 61 62 63 64 65 66 67 68 69 70 71 72 73 74 75 76 77 Older>>

Showing results 202 to 204 of 231