LoveQuilts UK News
Update 18th June 2020


Hello all

LQUK is still on pause - while England is opening up a fair bit now, the devolved nations, especially Wales and Scotland are still pretty firmly locked down.

We would prefer UK stitchers not to go to the post office with their squares at the moment, but we are happy to accept online post. You can do this by weighing your parcel, paying and printing out your postage at home, and posting it straight into a postbox.

If you would like to send your squares by online post, please email us at contact@lovequiltsuk.com and Gaynor will email you back with full instructions and addresses :)

Stitchers outside the UK, where lockdown is over and it is safe to go to the post office, please email for the address.
---
News 21 May 2020


Hello all

Just thought we'd post to say hello. We're still basically in lockdown here in the UK. Restrictions have been eased slightly in England (not Wales, Scotland or NI), but the guidance still states "stay at home as much as possible" so LQUK is still on pause until that is lifted.

If you live in an overseas territory where restrictions have been lifted (New Zealand for example) we are happy for you to send your squares to us, please email us for the address details.

Rest assured, LQUK will be back when restrictions have been lifted. We know many of you have stitched your signup squares and have them ready to post when this occurs.

We are not opening any more quilts for now, as there will be a quilting backlog to get through when restrictions are lifted, but in the meantime, High Priority Any Child Squares are always very welcome if you'd like to stitch some while we wait to get back to normal :)

Hope you're all well out there!
---
News 15 Feb 2020 - 01 Mar 2020


Hello everyone! We hope you are doing OK and not affected by the recent flooding. It has certainly been a stormy February.

Quilt News
11 quilts have been delivered since our last update:

Freya B's quilt (Cats) - quilted by Sandra (Beds):




Jacob M's quilt (Superheroes) - quilted by Seren:




Liam S's quilt (Specific male characters) - quilted by Jan S (Lincs):




Loraya H's quilt (Princesses) - quilted by Judith:




Milan's quilt (Cartoon Characters) - quilted by Ann:




Morgan L's quilt (Vehicles) - quilted by Jan S (Lincs):




Savannah's quilt (Hearts) - quilted by Sarah:




Tayler C's quilt (Foxes) - quilted by Leanda:




Ted's quilt (Space) - quilted by Heather:




Tom B's quilt (Harry Potter) - quilted by Sandra (Beds):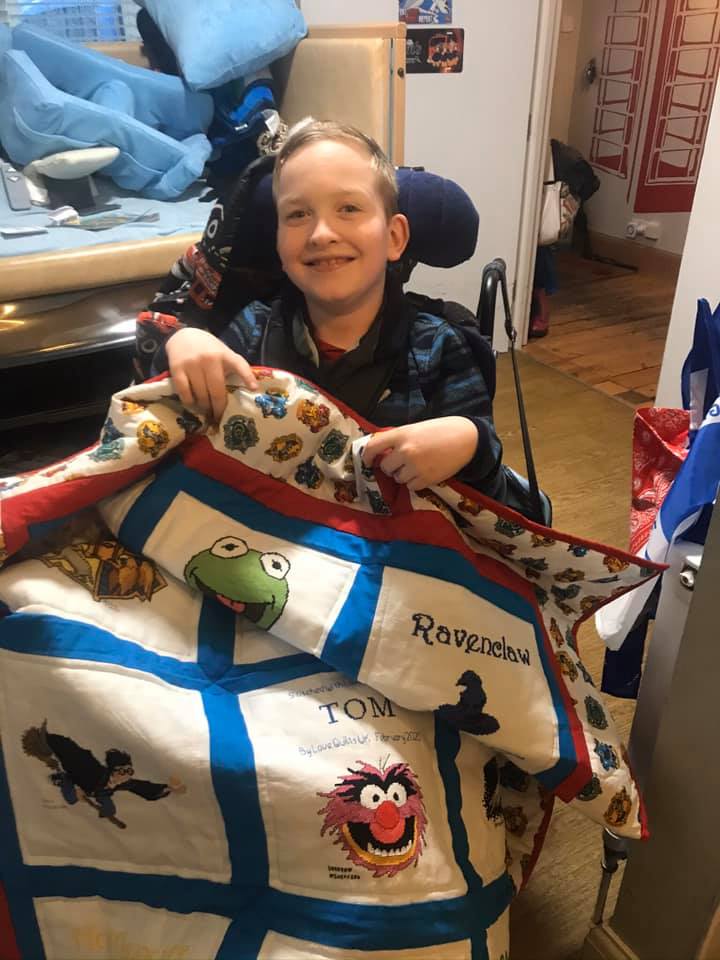 Victor's quilt (Vehicles with wheels) - quilted by Leanda:




Thank you so much to everyone who contributed towards these quilts!


Anne-Louise
We were very sorry to hear of the passing of our stitcher Anne-Louise who lived in Sweden. Anne-Louise (Lou Lou) was an enthusiastic member of LoveQuiltsUK and has given us great support over the years. We will deeply miss her and send our deepest condolences to her family.


LoveQuiltsUK Calendar 2021
Clare Bray is still collecting photos for the LoveQuiltsUK 2021 fundraising calendar. If you have photos of squares, quilts, kids or anything else related to LQUK, please get them in to Clare at lovequiltscalendar@gmail.com . See the previous news entry for details.


Square News
We have received 129 squares since our last update! Many thanks to all those who stitched them!


Quilt Squares were received from:

Alisha, Birmingham, UK
Alison, Oldham, UK
Ann, Spain
Ann Woods, Crimplesham, England (2)
Anne, Sandefjord, Norway (3)
Anthea, Northampton, UK
Barbara, Midhurst , UK
Comfort Pillow Group, Poland
Debbie May, Worthing, West Sussex, UK
Deborah, Leeds, UK
Diana, Sussex, UK (2)
Ellie, London, UK (2)
Emma, Stevenage, UK (2)
Emma Bottrell, Par, UK
Emma Edwards, Hawkesbury Upton, UK (2)
Emma Robson, Doncaster, England (4)
Emma Swainston, Chalfont St Peter, England (2)
Emma Swift, Aberdeen, UK (3)
Erin, Neath, Wales
Gloria, Sallanches , France (2)
Hannah, Wirral, UK
Heather, Littleborough, England (3)
Helen, Swindon, UK
Jan G, Hull, UK (3)
Jan S, Enid, Oklahoma, USA (3)
Jane Senior, Morecambe, UK
Janet T, South Wales, UK (3)
Jennie, Dundee, UK (2)
Jennie, Worcester, England
Jennifer Urquhart, Glasgow, Scotland (3)
Jenny, Rushden, UK (3)
Jenny Elkington, Boston, UK (2)
Jessica, Cambridge, ON, Canada (2)
Jill, Spain (2)
Joanne Heap, Liverpool, UK
Jodi Maple, Niagara Park, Australia (2)
Jodie Balaam,
Jodie Balaam, Lawshall, England (4)
Julie, Anglesey, Wales (2)
Karen Stephenson, Cambridgeshire, UK (3)
Kelli, Neath, Wales
Leanda Vickers, Oldham , England
Louise B, Surrey, UK
Marie, Yeovil, UK
Marion, Coventry, UK (3)
Merete, Allerød, Denmark (2)
Michelle Beckett, Prestwood, UK
Miss Debbie Elkington, Boston, Lincs, UK (2)
Moira Anne Jeffcoat, Birmingham, England (3)
Nicola, St Albans, UK (4)
Nisha Chauhan, Leicester, UK (5)
Pippa, Surrey, UK (6)
Rachael Skinner, Southampton , UK
Rebecca, Kettering, Northants, UK
Roberta H, King's Lynn, England
Ruth Horn, Co Durham, UK (2)
Sam Casey, Maidenhead, England (2)
Sandra, Shefford, England
Sarah, Gosport, UK (2)
Sue P, Birmingham, England (5)
Val Gilbert, Coningsby, UK (5)
Yvonne, Devon, UK


Donations
Thank you very much to everyone who has sent in donations since our last update! :)


---

<<Newer 1 2 3 4 5 6 7 8 9 10 11 12 13 14 15 16 17 18 19 20 21 22 23 24 25 26 27 28 29 30 31 32 33 34 35 36 37 38 39 40 41 42 43 44 45 46 47 48 49 50 51 52 53 54 55 56 57 58 59 60 61 62 63 64 65 66 67 68 69 70 71 72 73 74 75 76 77 78 79 Older>>

Showing results 25 to 27 of 236