Theo C's quilt (Quilt Closed)
Born:
August 2012
Illness:
hypoxic aschaemic encephalopathy, cerebral palsy, dystonia, epilepsy, visual impairment

Theme: Sea Life

Date opened: 13th May 2017
Date closed: 15th May 2017
Deadline: 31st Aug 2017


Child Interests
Animals
Music
Swimming
Red/Yellow
Bright colours
Biography
Theo suffered catastrophic brain damage at birth and as a consequence lives with quadriplegic cerebral palsy, intractable epilepsy, secondary dystonia and severe visual impairment.

Despite his early difficulties, Theo is a very strong and clever little boy. He now goes to a specialist school and enjoys using switches to 'drive' his wheelchair, playing games using Eye Gaze technology and singing with his friends in music therapy.

Theo continues to smile through all the hospital appointments, physiotherapy and speech and language sessions, treatments and operations. He's a real life miniature hero!
Patterns
1.
Cross Stitch Wonders Sea horse with sea grasses
Stitcher: Jeanne, Texas, USA
Received
na


2.
Jacobean sea friends Cross Stitch Wonders Crab and fish
Stitcher: Jan , Hull, UK
Received


3.
Crab from Stoney Creek Sea Babies
Stitcher: Val Gilbert, Coningsby , UK
Received


4.
From cross stitcher mag 1999 Called playful time. Two dolphins jumping out of water with round border
Stitcher: Valerie Jacoby, Peterborough, UK
Received


5.
Jacobean Sea Friends X stitch Wonders Starfish and fish
Stitcher: Rosemary Binnie, Macclesfield, UK
Received


6.
Stoney Creek Babies Whale
Stitcher: Elaine, Ammanford, Wales
Received


7.
Purple cartoon octopus
Stitcher: Emma Swift, Aberdeen, UK
In Progress


8.
Own design using different sea animals
Stitcher: Roberta H, King's Lynn, England
Received


9.
Stoney Creek sea babies. Clown fish.
Stitcher: Jenny Elkington, Boston, UK
In Progress


10.
Three seahorses
Stitcher: Elizabeth Cousins, London, UK
In Progress


11.
Fishes of different sizes
Stitcher: Sarah, Enfield, London, UK
In Progress


12.
Label
Stitcher: Miss Debbie Elkington, Boston, Lincs, UK
Received
Squares received
Card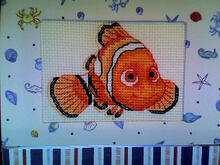 Stitched by: Heather Jepson