Kieran S's quilt &nbsp (Quilt Completed)
Born:
2011
Illness:
Heart condition

Theme: Space

Quilt delivered: 30th Sep 2018
Thank you
Would like to say a big thank you to everyone involved in making Kieran's quilt, I wish I had videoed him opening it as his face when he saw it, he was very impressed that the back of the build was the same pattern that his bedquilt and curtains is, he said he loves it. It is laying on his bed ready to go to bed tonight.
Finished photos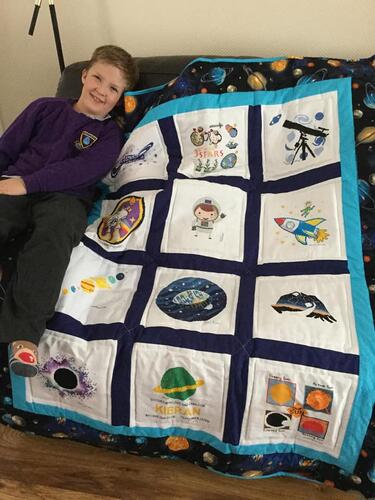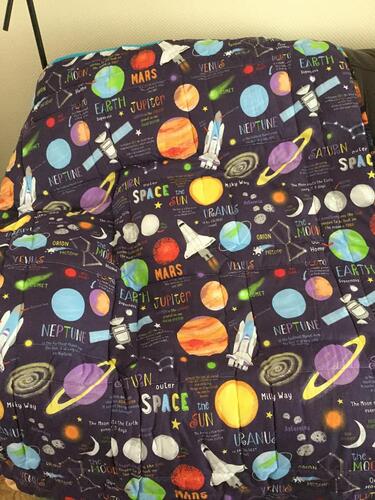 Quilted by:
Heather
Individual squares
Card

Stitched by: Sandra
Biography
When kieran was born he spent most of this time asleep, struggled putting on weight, vomiting and feeding. We was told that Kieran was just a lazy baby but at 10 weeks old we found out kieran had a hole in his heart (vsd), he was put on high kcal milk but this made him vomit a lot so he spent a week in our local hospital, during this time he was very week and lost his neck control. Kieran was sent home from hospital on a different milk and a range of medication, he was seen by great ormond street who kept an eye on his hole in his heart. At 13 months old Kieran went to great ormomd street to have his hole in his heart closed by open heart surgery but unfortunately the operation failed and he had to have open heart surgery again 2 weeks later, Kieran spent 3 weeks in great ormomd street. During his say at great ormond street he caught nurovirus and a cold virus.

Kieran still has a leaky aortic valve with his being monitoring by great ormomd street, his aortic valve will need to be replaced sometime but will not touch it until Kieran has no energy.
Kieran also has nurodevelopmental delay but even through everything he has been through Kieran always has a smile on his face.