Hago B's quilt (Quilt Closed)
Born:
2014
Illness:
Chronic lung disease, tracheostomy, gastrostomy Fed, gastro-oesophageal reflux, sensory difficulties, developmental delayed profile.

Theme: Trains, especially Thomas the Tank

Date opened: 10th Nov 2018
Date closed: 20th Nov 2018
Deadline: 26th Mar 2019


Child Interests
Blue and red. He likes trains, cars, big trucks, dancing, dinosaurs and dogs.
Biography
Hago was born at 26 weeks, was in hospital for 3 months and then discharged home. A month after being home his breathing changed so I took him to the hospital to be examined. That's when Drs found out that 75% of his airways are blocked with scars so he's only breathing from 25% and struggling, so the only way for him to live and develop properly is the tracheostomy.

After the surgery he stopped eating orally and had a gastrostomy for feeding. He is also on and off oxygen due to chronic lung disease. We go for regular appointments and procedures in the hospital.
Patterns
1.
DMC Counted Cross Stitch Thomas and Friends Thomas the tank engine
Stitcher: Rosemary Binnie, Macclesfield, UK
Received


2.
Thomas, full steam ahead. Design by Gillian Souter
Stitcher: Marie, Yeovil, UK
Received


3.
Thomas the Tank Engine by Helena Turvey Thomas the Tank engine with Annie the car; conductor running by train
Stitcher: Frank Osborne , San Antonio, Texas, USA
Received
na


4.
Thomas the Tank Cross Stitch by Helena Turvey Henry Engine with painter, conductor and Fat Controller looking at the train
Stitcher: Jeanne, Texas, USA
Received
na


5.
Cross Stitch Crazy James (from picture of Thomas and James, but just doing James)
Stitcher: Seren Senior, Derby, UK
Received


6.
Etsy pattern downloaded Thomas the tank face on
Stitcher: Elaina, Sutton Coldfield, England
Received


7.
Front view of Percy from Thomas the Tank Engine
Stitcher: Emma Swift, Aberdeen, UK
Received


8.
Stepney the Blue bell engine at the station Thomas the tank engine cross stitch by Helena Turvey
Stitcher: C McDonald, Altrincham, UK
Received


9.
Pattern on Love Quilts Facebook site, designed by Gemma Harris. Red & Yellow high speed modern train. Lovely bright colours.
Stitcher: Alison Wells, West Yorkshire, UK
Received


10.
Mother Bee Blue Steam Train
Stitcher: EE(Beth)Filmer, Adelaide, Australia
Received


11.
Thomas the tank engine, Gillian Souter. Taken from the album cover pattern in the more storybook cross stitch book.will have a border if too small.
Stitcher: Julie, Portgordon, Scotland
Received


12.
Label
Stitcher: Sandra, Shefford, England
Received
Squares received
Card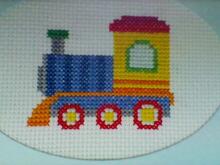 Stitched by: Nicola Bailey