Darcey's quilt &nbsp (Quilt currently being assembled)
Born:
2015
Illness:
Dravet syndrome

Theme: Frozen/Winnie the Pooh characters

Quilt currently being assembled
Theme details
Frozen/Winnie the Pooh characters - Favourite characters are Anna, Elsa, Olaf, Pooh, Tigger, Piglet, Eeyore and any other Pooh character
Biography
Darcey was around 3 months old when she had a febrile convolsion during her sleep. After a long stay in hospital and several further episodes she was diagnosed with Dravet Syndrome at Great Ormand Street Hospital.

Darcey's condition has had an effect on her mental and physical development. She is very unsteady on her feet and has no awareness with regards to danger. Her speech is delayed due to her condition but she is really making progress with communication.

Darcey will be 4 years old this year and is an amazing happy go lucky girl. She loves playing outside, swimming and painting to name just a few. She also loves singing along to her favourite film Frozen.

Darcey is such a strong young girl and has dealt with everything thrown at her in her stride and with a smile on her face. Darcey will soon be starting school and it is something she is looking forward to immensely.
Patterns
1.
Love Quilts Young Anna and Elsa from Love Quilt patterns list
Stitcher: Barbara, Midhurst , UK
Received


2.
Pooh's book of watercolours in counted cross stitch Winnie the Pooh with butterflies
Stitcher: Katie, York, England
Received


3.
Pooh bear laid on the word pooh
Stitcher: Nicola, Elland, UK
Received


4.
WTP calendar 2006 Piglet and ducklings in the rain
Stitcher: Heather, Littleborough, England
Received


5.
Disney D23 Stargazing Pooh, Tigger, Piglet & Eeyore looking up at the stars
Stitcher: Ann, Billericay, UK
Received


6.
Disney Winnie the Pooh and friends 100 acre wood in counted cross stitch 2002 Eeyore
Stitcher: Eileen, Newcastle, UK
Received


7.
From the booklet Winnie the Pooh celebrations in cross stitch Kanga and roo
Stitcher: Julie Edgcumbe, Haverhill, Suffolk, UK
Received


8.
Designer stitches book DS29 Piglet blowing a dandylion
Stitcher: Leanne Malcolmson, Romsey, UK
Received


9.
LQ Files Elsa and Anna - Sister's Forever by Beth Filmer
Stitcher: Pippa, Surrey, UK
Received


10.
Stitcher: Emma Robson, Doncaster, England
Received


11.
Stitcher: Jackie, Corby, UK
Received


12.
Label
Stitcher: Leanda Vickers, Oldham , England
Received
Squares received

Stitched by: Leanda Vickers
Submitted: Feb 2019


Stitched by: Barbara
Submitted: May 2019


Stitched by: Katie
Submitted: Feb 2019


Stitched by: Nicola
Submitted: Apr 2019


Stitched by: Heather
Submitted: Mar 2019


Stitched by: Ann
Submitted: Feb 2019


Stitched by: Eileen
Submitted: Mar 2019


Stitched by: Julie Edgcumbe
Submitted: Feb 2019


Stitched by: Leanne Malcolmson
Submitted: Apr 2019


Stitched by: Pippa
Submitted: May 2019


Stitched by: Emma Robson
Submitted: Mar 2019


Stitched by: Jackie
Submitted: Apr 2019
Card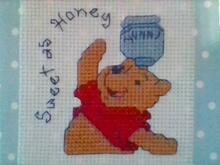 Stitched by: Jill Smith