William S's quilt (Quilt Closed)
Born:
2008
Illness:
Autism

Theme: Star Wars and Jet Planes

Date opened: 23rd Feb 2019
Date closed: 16th Mar 2019
Deadline: 26th Jun 2019


Theme details
Star Wars and Jet Planes - Legal Star Wars patterns please - we have several in our files section here No general Space please, only Star Wars

Planes like Spitfires and the red arrows would suit :)
Child Interests
Star Wars, all things nature in particular the beach/sea, shells, fishing, flowers, pinecones and leaves, football and animals.
NB. WILLIAM'S INTERESTS ARE VERY LIMITED DUE TO HIS AUTISM

Favourite colour is red.
Biography
William has not had a very easy start in his life. He had a very traumatic birth where he nearly died and then had to have 4 years of treatment for bilateral talipes (club foot to both feet). During this time we had many concerns over his development and behaviours. Mum first noticed it at age 10 months old and took serious concerns to the doctor at nearly age 3 with a confirmed diagnosis of autism at age 4.

He has had the toughest time managing school and has suffered a lot of mental health trauma in the process. He is now 10 and in a specialist school but still really struggling to cope with his day to day life. He is the most loving, kindest, gentle boy you could ever wish to meet and it breaks our hearts to watch him suffer every day. His biggest love is being outdoors and everything to do with nature and animals. He is also obsessed with Star Wars (like his Daddy!). He has a little sister Rosie whom he loves very much.
Patterns
1.
(If someone else has an already suitable red arrow pattern I am happy to stand aside) Red arrows in formation (adapted to fit LQ size, one red arrow if cannot be adapted successfully) based on Quick Cross stitch magazine pattern
Stitcher: Amanda Simmance , Theydon Bois , UK
Received


2.
Love Quilts files Star Wars Logo
Stitcher: Mark Grogan, Oldham , UK
Received


3.
Darth vadar from LQ files
Stitcher: Jo, York, UK
Received


4.
Warthog Plane from cyberstitchers.com
Stitcher: Nichola Jones, Farnborough, Hampshire, UK
In Progress


5.
Modified Pinterest Pattern A-Wing Fighter Plane
Stitcher: Marie, Yeovil, UK
Received


6.
From LQ files Jedi Master Yoga
Stitcher: Michelle Hillier, Sault Ste Marie, Canada
Received


7.
C3PO by Beth Filmer C3PO Head from Love quilts files
Stitcher: Linda Cropper, Atherstone, England
Received


8.
Beth's design LQ files FA - 18 Hornet plane
Stitcher: Jan G, Hull, UK
Received


9.
BB8 from LQ files BB8 robot
Stitcher: Lyn , Doncaster, UK
Received


10.
Supermarine Spitfire 1936-1954
Stitcher: Kaz Bowen, Wakefield, UK
Received


11.


12.
Label
Stitcher: Gail, Lochgelly, Scotland
Received
Squares received

Stitched by: Gail
Submitted: Apr 2019


Stitched by: Amanda Simmance
Submitted: Jun 2019


Stitched by: Mark Grogan
Submitted: Mar 2019


Stitched by: Jo
Submitted: May 2019


Stitched by: Marie
Submitted: May 2019


Stitched by: Michelle Hillier
Submitted: Jun 2019


Stitched by: Linda Cropper
Submitted: May 2019


Stitched by: Jan G
Submitted: Apr 2019


Stitched by: Lyn
Submitted: Jun 2019


Stitched by: Kaz Bowen
Submitted: Mar 2019
Card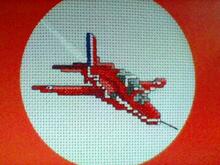 Stitched by: Linda Cropper