Bobby M's quilt (Quilt Closed)
Born:
2010
Illness:
Asd/anxiety

Theme: Football

Date opened: 27th Mar 2019
Date closed: 2nd Apr 2019
Deadline: 26th Jul 2019


Theme details
Football - His favourite teams are Tottenham Hotspur, Glasgow Celtic, and Paris Saint-Germain
Child Interests
Bobby loves football. Glasgow Celtic, Tottenham Hotspur and PSG are his favourites.
He loves computer games.
Drawing is a favourite hobby when anxiety hits.
His favourite colour is blue.
Biography
Bobby was born by c-section. He was a great baby, very happy and settled. He slept really well and was very social. He was late walking and talking. He started nursery at 2 1/2yrs old, settled well and mixed well with children. After some SLT input his speech came on great.

At 5 he started school but struggled at first as he worried about everything. After a few months he settled. Going into primary 2 Bobby became less social, he stuck very closely to immediate family. Night terrors started quite often and he gave up after school clubs as it was becoming too distressing. Going into school became extremely distressing for him and me and we had to start going in later. The doctor decided to refer to CAMHS as he noticed signs of anxiety for which, after some input, CAMHS decided to assess for autism.

Bobby's very vocal and intellectual. He likes to fit in with others and has now started attending football club. He lives and breathes all facts about his favourites. Bobby's anxiety forms around others being unwell and he takes on their symptoms.

He has an older brother who's 12 and severely autistic. Bobby worries a lot about who will look after his brother when older. He struggles with the vocal noise level from his brother too. Myself and the boys dad separated when Bobby was about 8 months old. He has a half sister who also has autism so Bobby finds this really hard to accept. His anxiety has really changed his life as it's taken a very happy social child and made him very withdrawn. We've worked hard to get Bobby to the stage he's at now and little bits of his happiness are returning and he's becoming more involved. Large crowds and unknown places are hard for Bobby to cope with but with lots of preparation we are getting there.
Patterns
1.
From Love Quilt files Copyright football chart (horizontal stripes) in Celtic colours
Stitcher: Mark Grogan, Oldham , UK
Received


2.
Football heart from Les Coeurs d'Isa Football heart in Glasgow Celtic colours
Stitcher: Heather, Littleborough, England
Received


3.
World of cross stitching Footie fan. Lili of the valley design
Stitcher: Emma Robson, Doncaster, England
Received


4.
Pattern from Etsy - climbing goat Large football in foreground with smaller footballer in background
Stitcher: Ruth Horn, Co Durham, UK
Received


5.
Bang on the Door 'Boy Kicking a Football' Boy kicking football, will change colours to Paris Saint-Germain colours. Has the word football on design but will look at adding the team name or substituting the words to personalize
Stitcher: Kaz Bowen, Wakefield, UK
Received


6.
Bang On The Door Footballer with arms in the air as stitched for Matthew F
Stitcher: Sandra, Shefford, England
Received


7.
Climbing goats etsy design, goalkeeper reaching for the ball in front of the net, will try and match the strip colours to one of Bobby's favourite teams
Stitcher: Rebecca, Nantwich, UK
Received
https://www.etsy.com/uk/listing/541226979/football...


8.
Own design Logo of Spurs (cockerel and club name) in blue and white.
Stitcher: Ros, Norfolk, UK
Received


9.
Own design Paris St Germain logo
Stitcher: Ros, Norfolk, UK
Received


10.
Free pattern from Mamou Footballer silhouette kicking the ball will do in green
Stitcher: C McDonald, Altrincham, UK
Received
mamou.blog


11.


12.
Label
Stitcher: Alison, Ashford, UK
In Progress
Squares received

Stitched by: Mark Grogan
Submitted: Jul 2019


Stitched by: Heather
Submitted: May 2019


Stitched by: Emma Robson
Submitted: Apr 2019


Stitched by: Ruth Horn
Submitted: May 2019


Stitched by: Kaz Bowen
Submitted: Apr 2019


Stitched by: Sandra
Submitted: Apr 2019


Stitched by: Rebecca
Submitted: May 2019


Stitched by: Ros
Submitted: Jul 2019


Stitched by: Ros
Submitted: Jul 2019


Stitched by: C McDonald
Submitted: Apr 2019
Card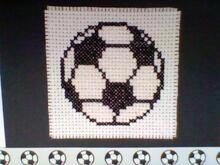 Stitched by: Hannah Garner