Harley W's quilt (Quilt Closed)
Born:
2012
Illness:
Supravalve aortic stenosis and bilateral branch pulmonary artery stenosis

Theme: Space

Date opened: 17th Apr 2019
Date closed: 18th Apr 2019
Deadline: 26th Aug 2019


Child Interests
Harley loves space, football, superheroes and motorbikes.
His favourite colour is blue
Biography
Harley has an elastin gene mutation which affects his heart & has caused him to have severe obstruction to both blood flow to his body and his lungs. The expectation is that his condition will get worse as time goes on, and whilst he seems relatively stable this is a condition that will often result in death in childhood. This can happen very suddenly due to arrhythmias.
Harley is very limited in his exercise capabilities and tires easily. Harley is under 3 monthly observations, he cannot do any physical activity and finds this difficult, being 7 he just wants to be like everyone else. He is such a happy caring and thoughtful little boy who is cheeky and witty. Harley finds it difficult to regulate his core temperature so when
hot he becomes clammy and passes out, or if it's too cold he has blue episodes so we need to be extra careful and wrap up warm.
Patterns
1.
Spaceman with flag from LQ files
Stitcher: Jan , Lincs, UK
Received


2.
XStitch magazine - issue 6 Rainbow Saturn
Stitcher: Joanne Heap, Liverpool, UK
In Progress


3.
Stoney Creek final frontiers solar system - all the planets joined by orbits
Stitcher: Leanda Vickers, Oldham , England
Received


4.
Climbing Goats Our sun
Stitcher: Eileen, Newcastle, UK
Received


5.
Pattern by stitching land on Etsy Saturn
Stitcher: Jackie, Corby, UK
In Progress


6.
Space square by Elsie Irwin in the files
Stitcher: Helen Irwin, Hull, UK
Received


7.
"Space Odyssey" pattern of a galaxy, by Emma Congdon, Cross Stitch Crazy 237 Galaxy
Stitcher: Katie, York, England
In Progress


8.
Oh Spaceboy - Etsy Space scene with a rocket, planets, alien, astronaut
Stitcher: Michelle Hillier, Sault Ste Marie, Canada
Received
https://www.etsy.com/ca/listing/181828407/oh-space...


9.
My own pattern. Astronaut on the moon with the earth and alien/spaceship in the background.
Stitcher: Christine Donaghy , Belfast , UK
In Progress


10.
Baby and kids, motifs by Maria Diaz Series 2 ISBN 978-605-5647-38-5 Rockets and astronauts
Stitcher: Sally, Hull, UK
Received


11.
Gemma at Buzy Bobbins Rocket ship blasting into space in circle with rainbow behind. Will colour block the circle in blue
Stitcher: Kaz Bowen, Wakefield, UK
In Progress
http://buzybobbins.blogspot.com/2017/03/rocket-shi...


12.
Label
Stitcher: Gail, Lochgelly, Scotland
Received
Squares received

Stitched by: Gail
Submitted: May 2019


Stitched by: Jan
Submitted: Apr 2019


Stitched by: Leanda Vickers
Submitted: Apr 2019


Stitched by: Eileen
Submitted: Jul 2019


Stitched by: Helen Irwin
Submitted: Jun 2019


Stitched by: Michelle Hillier
Submitted: Jul 2019


Stitched by: Sally
Submitted: Jun 2019
Card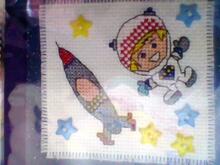 Stitched by: Nicola Hargreaves