Finley R's quilt &nbsp (Quilt Completed)
Born:
2006
Illness:
Cystic fibrosis

Theme: Orcas and other whales (realistic)

Quilt delivered: 23rd Nov 2020
Thank you
Well Fin's quilt just arrived and I'm literally in tears it's just so beautiful. I can't thank every single one of you enough for what you have done for him and all the other children out there. You are all amazing.

He was absolutely speechless when he opened it and realised what it was. It's been made really special because today his new bed arrived and to say the bed and quilt are a perfect match is an understatement. It's absolutely perfect

Thank you so much each and everyone of you x
Finished photos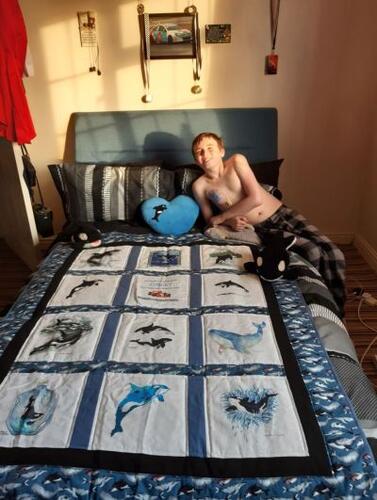 Quilted by:
Leanda
Individual squares
Card

Stitched by: Leanda Vickers
Biography
When Fin was born he was very small. Despite this he would feed constantly and never gain weight. I took him to the doctor who told me there was nothing wrong with him when he was 6 weeks old. I knew there was so I took him to A&E where after a lot of testing, he was really poorly and severely anaemic and ended up having a blood transfusion.

Initially they thought he had a rare blood disorder so the doctors were going down those lines. Then I was munching on his tiny hands playing pattacake and he tasted so salty it was unbelievable.


I googled it and up popped Cystic fibrosis so I went to the doctor on the ward and chatted about how salty he was... Fin was then referred to a CF specialist centre and 4 months later he was diagnosed with cystic fibrosis.

Whilst they were doing the tests to confirm his CF it was also found he had an extra chromosome on the 15th pairing and at the time no one was really sure if this would affect him or how if it would at all. Although Fin is 14, maturity wise he`s probably about 8/9 year old so it can be really difficult at times when it comes to treating his CF particularly when meds and routine is introduced.

Fin is absolutely totally obsessed with anything Orcas followed second by motorsport in particular F1. He started racing at 11 in petrol karts mainly as a form of exercise to help keep his chest clear from the mucous because of his CF.

My dream one day would be for me to actually take him to see the orcas living free and wild in their natural environment rather than being on display in a big tank

Fin has had a lot of surgery, chest infections and complete bowel blockages because of his CF. He's had so many courses of iv antibiotics I've lost count. On a daily basis he needs up to 60 tablets and nebuliser therapy morning and evening, on top of chest percussion morning and evening to loosen and move the thick sticky mucous on his lungs.