Leo C's quilt &nbsp (Quilt Completed)
Born:
2015
Illness:
Noonan Syndrome

Theme: Trains and Mr Tumble

Quilt delivered: 11th Sep 2022
Thank you
Can I say thank you from the bottom of my heart for Leo's beautiful blanket. The time, effort and love that has gone into making this shines through. Leo is absolutely mesmerised by it and it will be treasured forever
Finished photos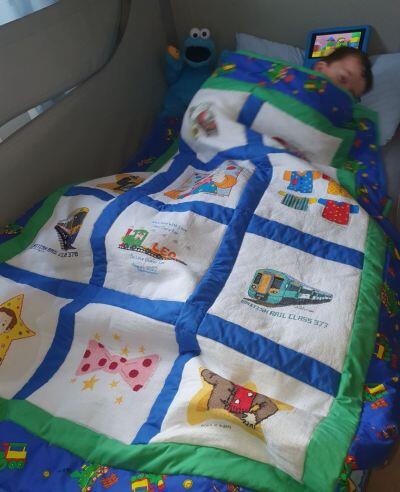 Quilted by:
Linda
Individual squares
Card

Stitched by: Jill Smith
Biography
Leo arrived into the world 6 weeks early in 2015. He was taken straight to NICU and put onto life support. He had a multitude of health issues including heart defects, low platelets, enlarged liver, fluid on his lungs and was suspected of contracting sepsis at 2 days old. In those first few days we were unsure if we would ever get to take him home to meet his 2 sisters who were 3 and 16 months at the time. Noonan Syndrome was mentioned to us during this time but was not officially diagnosed until a few months after.

Leo was discharged 4 weeks later with an NG tube as he was struggling feeding and would only tolerate small amounts of milk. He had severe reflux and would vomit up to 12 times a day. He struggled to put on any weight and was readmitted to hospital multiple times during the first year of his life as more health problems were identified. At 8 months he underwent his first surgery to have a gastrostomy placed for feeding along with a bone marrow aspiration for a blood disorder JMML.

Leo has undergone many more surgeries and medical procedures over the years including one operation where he bled internally following it and had to be blue lighted back to hospital for emergency surgery to remove a blood clot.

Leo received an autism diagnosis at 3 years old and is non verbal. He is due to start growth hormone treatment imminently as he is only the size of a toddler and will need daily injections. I am sure he will take this in his stride as he has done everything else.

Despite all his issues Leo is a happy, content little man who loves nothing better than going for train rides or jumping on his trampoline. He is the light of our lives and makes me proud very single day.