Kian L's quilt (Quilt Closed)
Born:
2011
Illness:
Autism Spectrum Disorder

Theme: Vehicles that Fly

Date opened: 2nd Feb 2019
Date closed: 6th Feb 2019
Deadline: 26th Jun 2019


Theme details
Vehicles that Fly - Balloons of all kinds are a favourite (both hot air and party), also planes, helicopters, parachutes
Child Interests
Kian's obsession is balloons. He also likes planes, helicopters, parachutes and bubbles. Anything that flies and floats and defies gravity!
Kian's favourite colours are purple and orange.
Biography
Kian was born a healthy baby in July 2011. He was a lovely calm baby but he seemed to get poorly very frequently. He was hospitalised at 10 months old with pneumonia, which gave us quite a scare. We noticed around the age of 18 months that Kian was quite behind in many areas of development, particularly speech. He couldn't say a word and he couldn't use cups and cutlery, needing to be fed. He also suffered with gastrointestinal issues that couldn't seem to be cured or a cause found. At the age of 2 and a half we seriously considered the possibility Kian had some kind of learning disability. Unfortunately the services in the area where we lived weren't very helpful and we were continuously fobbed off. We moved areas as Kian turned 3 and Kian was referred to a brilliant paediatrician. Three months later our suspicions were confirmed and he was diagnose as low to mid-functioning autistic, and approximately 3 years developmental delay.
As parents we were of course upset but at the same time relieved because we'd been fobbed off for so long we started to worry it was something we'd done! From the start it was obvious Kian would benefit from a special education setting, and he was granted a place in a brilliant local special school. He's gone from strength to strength with his speech, no longer classed as non-verbal. Learning-wise he's still very behind and he struggles with his attention, concentration, some physical skills, behaviour, awareness etc but he's a lovely happy boy, full of innocence with a cheeky personality.

Patterns
1.
Own design - Hot air balloon in favourite colours.
Stitcher: Joanne Heap, Liverpool, UK
Received


2.
Daily Cross Stitch. Blimp (airship).
Stitcher: Jenny Elkington, Boston, UK
Received


3.
WOXS Issue 263 (omitting baby-sampler references) Hot Air Balloon with mouse in basket
Stitcher: Ann, Billericay, UK
Received


4.
Purple and orange hot air calling flying over mountain scene
Stitcher: Emma Swift, Aberdeen, UK
Received


5.
Cross sticher August 2015 Hot air balloons
Stitcher: Kay, Southminster, Essex, UK
Received


6.
Hot Air Balloning, from Life's an Adventure, designs by Nanci, 1986. 3 hot air balloons, will choose colours he likes.
Stitcher: Marilyn, Birmingham, UK
Received


7.
Etsy - zindagi designs Aeroplane surrounded by clouds. Wil change colours to purple and orange
Stitcher: Katie Lacy, Leamington Spa, UK
Received
https://www.etsy.com/uk/listing/173883365/instant-...


8.
365 cross stitch designs 2016 Bi-plane
Stitcher: Lisa Toner, Bangkok, Thailand
Received


9.
Etsy Box being delivered by a parachute, 9x7"
Stitcher: Amanda Simmance , Theydon Bois , UK
Received
https://www.etsy.com/uk/listing/662834760/funny-pa...


10.
CrossStitchOfTheSea Etsy Simple crossstitch aeroplane pattern
Stitcher: Helen C, Leeds, England
In Progress


11.
Le Point compté pour bébé A cat on a plane
Stitcher: Gloria , Sallanches , France
Received


12.
Label
Stitcher: Sarah, St. Albans, UK
Received
Squares received
Card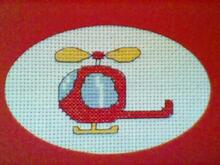 Stitched by: Nicola Bailey