Faith F's quilt &nbsp (Quilt currently being assembled)
Born:
2006
Illness:
Behaviour, hypermobilty.

Theme: Winnie-the-Pooh and Friends

Quilt currently being assembled
Biography
Faith is a lovely sweet young lady but she does have problems. She has major ocd and behaviour issues. Sometimes Faith will just change her behaviour for no reason, or if something wrong was said or something hasn't gone how it should have.
She has now been diagnosed with hypermobilty, which can be really painful for her. Some days she is unable to go into school as she can't walk or move very well.
Faith is also a young carer for her sister with cerebral palsy, autism and other problems.
Patterns
1.
100 Acre Wood booklet - Owl on a tree stump!!
Stitcher: Leanda Vickers, Oldham , England
Received


2.
Designer stitches DS17 - Winnie the Pooh Honey, Trees and Bees in Cross Stitch Winnie the Pooh hanging from a tree trying to reach honey
Stitcher: Rebecca, Nantwich, UK
Received


3.
Designer stitches booklet Winnie the Pooh fishing
Stitcher: Sandra, Shefford, England
Received


4.
Winnie the Pooh and Flowers - Anchor Pattern
Stitcher: Barbara, Midhurst , UK
Received


5.
Tigger and piglet Disney dreams collection by Thomas kinkade
Stitcher: Gail, Lochgelly, Scotland
Received


6.
Cross Stitcher mag issue 197 Eeyore
Stitcher: Ann, Billericay, UK
Received


7.
Pattern from an old kit. Map of 100 Acre Wood
Stitcher: Helen, Thrapston, UK
Received


8.
Winnie the Pooh & Friends 100 Acre Wood DS29 Tigger leaning on tree stump watching a butterfly
Stitcher: Linda Cropper, Atherstone, England
Received


9.
Designer Stitches Pooh and Friends Calendar in Cross Stitch (DS31) Kanga and Roo in a basket picking a flower
Stitcher: Jennifer Urquhart, Glasgow, Scotland
Received


10.
Winnie the Pooh and friends Portrait of Rabbit
Stitcher: Seren Senior, Derby, UK
Received


11.
Disney crafts magazine issue 1 Tigger and eeyore pulling poo out of rabbits house
Stitcher: Ann Woods, Crimplesham, England
Received


12.
Label
Stitcher: Jenny Elkington, Boston, UK
Received
Squares received
Card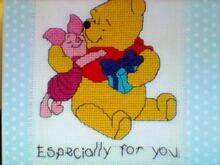 Stitched by: Jennie Ansdell