Hunter C's quilt &nbsp (Quilt Completed)
Born:
2010
Illness:
Autism- pathological demand avoidance, ADHD, ODD, motor tics (tourette's)

Theme: World Landmarks

Quilt delivered: 28th May 2021
Thank you
Hunter would like to say a massive thank you to everyone who worked super hard on his quilt... he loves it!!! We appreciate you all
Finished photos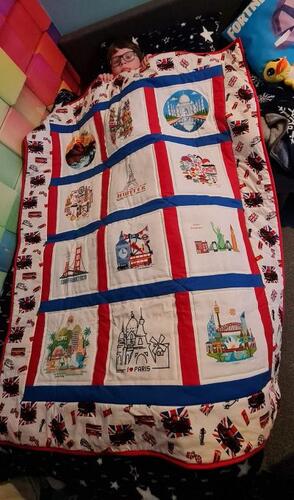 Quilted by:
Heather
Individual squares
Card

Stitched by: Diane Clifford
Biography
Each and every day is extremely challenging for Hunter. The simple every day demands of life often leave him overwhelmed and unable to cope. He often has meltdowns which leave him unable to verbally communicate. Regardless Hunter is a very highly intelligent boy, always inquisitive and eager to learn. Unfortunately school is a place where he just doesn't cope.

Hunter needs a safe quiet space to enable him to self regulate, the world outside his home is very daunting and often causes him great distress as it is beyond his control. To ensure he can cope, he must feel in control.