Keane's quilt &nbsp (Quilt Completed)
Born:
2012
Illness:
ADHD

Theme: Superhero + specific

Quilt delivered: 10th Dec 2020
Thank you
I have one very excited/happy boy that hopped skipped and jumped all the way home from school when I told him he had a special delivery from lovequilts. He has admired every single square.

Thank you to all the stitchers, quilters, card makers and all the people involved behind the scenes to make it possible for our kids to receive these amazing quilts. The love, care and time that goes in to these quilts is so heart warming. Keane absolutely loves his quilt! Thankyou all so much x
Finished photos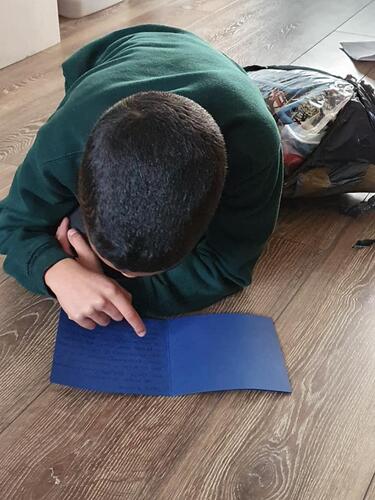 Quilted by:
Seren
Individual squares
Card

Stitched by: Jill Smith
Biography
Keane was born at full term and was a happy healthy baby.

Other than intolerances affecting his sleep and eczema he met all of his milestones on time.

Around the age of 4 or 5 I realised that his behaviours weren't just typical child's behaviour, days out became impossible due to his meltdowns and so we were referred to specialists for assessments.
He has since been diagnosed with ADHD and is still under review as this diagnosis doesn't match up with all of his struggles.
He is quite far behind academically despite having a lot of intervention and 1 on 1 lessons at school. He has made little to no progress so we have had further tests (eyes, hearing, educational psychologist etc.) to try to figure out what's going on and how best to support him.

Keane loves to be outdoors riding his bike, doing flips on the trampoline or swinging from the swing frame! If he's not outside he's sat gaming (Fortnite and Minecraft) or watching YouTube on his Nintendo Switch. I'm sure his headphones have become a permanent feature. He also loves Lego and can have a full set built in minutes.
He is sociable and tries to forge new friendships but these are strained due to his behaviours.

He is a sensitive soul and worries about everything but on the whole he is an awesome boy to have around.