LoveQuilts UK News
News 26 Feb 2011 - 05 Mar 2011

World of Cross Stitching Magazine
We are delighted to discover that we are appearing on the "Noticeboard" page of UK magazine World Of Cross Stitching this month!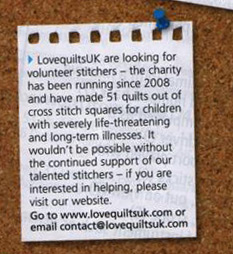 We have noticed an influx of new stitchers this week, and we presume this is the reason! So a big welcome to World of Cross Stitching readers and thank you for your support! We hope you will enjoy being part of LoveQuiltsUK.


Quilt News
This week, Katherine has been working on Elizabeth's quilt (Horses). She is just working through the quilting part and hopes to be finished over the next week or so.

Gaynor has been preparing for Bradley's quilt (Tatty Teddy) by cutting out the fabric.

Gaynor has also spent this week ordering fabric from the USA, particularly plain colour fabrics which we don't have a lot of at the moment. Gaynor's friend is visiting from Oregon at the end of March and she has very kindly offered to be a fabric courier! Since fabric is approximately half the price in the USA as it is in the UK, it is a good opportunity to make your kind donations stretch further.


Quilts opened/closed
Tia-Rose M's quilt (Yellow theme) was opened and closed.
Lewis C 's quilt (Enchanted World) was opened.
Kelli G 's quilt (Dance) was closed.
Lennon S 's quilt was closed.
Joshua D 's quilt (Cartoon characters) was closed.


2011 quilts
As you know, we reached have reached our capacity (32 quilt applications) for 2011. Lewis C's is the 32nd quilt for 2011 and we will not open any more children's quilts until approx July 2011 for completion in 2012.

If we should manage to recruit another quilter, we will of course immediately review the situation, so if anyone out there is interested in helping to assemble the quilts, we would be delighted to hear from you! To see what's involved, see our How It's Made page.

In the meantime, Katherine and Gaynor have been chatting about having some Stitch-a-longs. These would be squares on a specific theme that we will use in the future for emergency quilts, or possibly to fill gaps in quilts with missing squares. We are thinking about Stitch-a-longs on colour themes (green and purple) and also Disney characters. We would also like to re-open the Mr Man Stitch-a-long as we have quite a lot of Mr Man fabric. If you have an idea for a Stitch-a-long theme, please don't hesitate to get in touch :)

In addition to the Stitch-a-longs, we will also continue to accept Any Child Squares, and of course there are still many needy children in our sister organisations in the USA, Australia and Brazil.


Square News
We have received 11 squares this week! Many thanks to all those who stitched them and sent them in!



<<Newer 1 2 3 4 5 6 7 8 9 10 11 12 13 14 15 16 17 18 19 20 21 22 23 24 25 26 27 28 29 30 31 32 33 34 35 36 37 38 39 40 41 42 43 44 45 46 47 48 49 50 51 52 53 54 55 56 57 58 59 60 61 62 63 64 65 66 67 68 69 70 71 72 73 74 75 76 77 78 79 Older>>

Showing results 220 to 222 of 237